With all the new archery gear we unwrapped on Christmas day and the festive food indulged in, what better way to wrap up the year than with a Frostbite Competition?
Braving the chilly temperatures to shoot some arrows, archers from clubs all around the North East wrapped up warm, except for Dave "Elsa" Leverett, whose internal body temperature regulation remains a mystery to modern science.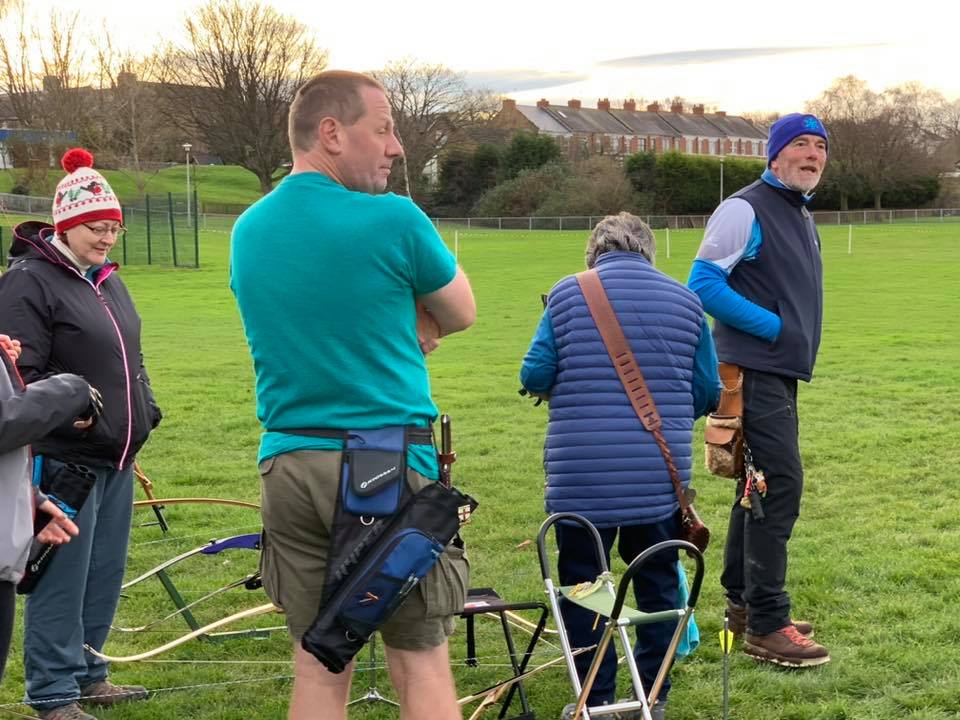 Fuelled by bacon sarnies, coffee, tea, and the tempting top prize of a sparkling Frostbite-themed woolly hat, archers from Killingworth, Morpeth, Durham, Whitburn, Bowmen of Walker, and host club Riverside competed against numb fingers and toes!
Results of the Riverside Frostbite Competition 2019 —
| Archer | Club | Bow | L/G | J/S | Score | Hits | Golds | Place |
| --- | --- | --- | --- | --- | --- | --- | --- | --- |
| Amber McLean | Riverside | BB | L | J U/12 | 40 | 10 | 1 | 1st |
| Ruby McLean | Riverside | BB | L | J U/16 | 244 | 52 | 4 | 1st |
| Jenny Cuthbertson | Killingworth | LB | L | J U/18 | 246 | 58 | 2 | 1st |
| Dave Leverett | Riverside | BB | G | S | 552 | 72 | 34 | 1st |
| Paul McFadyen | Riverside | BB | G | S | 500 | 72 | 15 | 2nd |
| Ian Norwood | Riverside | BB | G | S | 359 | 63 | 15 | 3rd |
| Steve Foreman | Killingworth | LB | G | S | 389 | 71 | 9 | 1st |
| Matthew Foreman | Killingworth | LB | G | S | 345 | 70 | 5 | 2nd |
| Brad Dixon | Riverside | LB | G | S | 303 | 64 | 3 | 3rd |
| Anthony Young | Riverside | LB | G | S | 203 | 47 | 4 | 4th |
| Peter Cowie | Morpeth | LB | G | S | DNS | | | |
| Alan Fleming | Morpeth | LB | G | S | DNS | | | |
| Simon Sykes | Durham | RC | G | S | 586 | 72 | 47 | 1st |
| Jarred Thornton | Whitburn | RC | G | S | 576 | 72 | 40 | 2nd |
| Spencer Black | Killingworth | RC | G | S | 574 | 72 | 39 | 3rd |
| Ken Stonley | Riverside | RC | G | S | 508 | 70 | 27 | 4th |
| Paul Mastaglio | Bowmen of Walker | RC | G | S | 333 | 65 | 11 | 5th |
| Brian Todd | Whitburn | RC | G | S | Retired | after | two | dozen |
| Andy Waddle | Killingworth | RC | G | S | DNS | | | |
| Tracey Leverett | Riverside | BB | L | S | 488 | 72 | 18 | 1st |
| Caitlin Leverett | Riverside | BB | L | S | 424 | 70 | 11 | 2nd |
| Amy Hodgetts | Riverside | BB | L | S | 423 | 71 | 12 | 3rd |
| Jenny Leverett | Riverside | BB | L | S | 418 | 70 | 8 | 4th |
| Ann Conifey | Riverside | BB | L | S | 215 | 52 | 3 | 5th |
| Allison Kelly | Riverside | BB | L | S | 199 | 41 | 5 | 6th |
| Chris Mernin | Riverside | LB | L | S | 333 | 61 | 6 | 1st |
| Margaret Fittes | Killingworth | LB | L | S | 236 | 57 | 7 | 2nd |
| Helen Horsley | Riverside | LB | L | S | 216 | 48 | 4 | 3rd |
| Clare McGovern | Whitburn | RC | L | S | 526 | 72 | 24 | 1st |
| Christine Cuthbertson | Killingworth | RC | L | S | 435 | 71 | 11 | 2nd |
| Paula Gardner | Riverside | RC | L | S | 314 | 64 | 8 | 3rd |
| Yvonne Mastaglio | Bowmen of Walker | RC | L | S | 304 | 66 | 5 | 4th |
| Catherine Hall | Riverside | RC | L | S | 294 | 62 | 7 | 5th |
Read more Riverside Archery blog posts below: